On October 14, 2021, Seureca signed the Engineering Diversity Charter, launched by the Syntec-Ingénierie federation, during the 20th edition of the Meet'ingé forum organized for the engineering professions.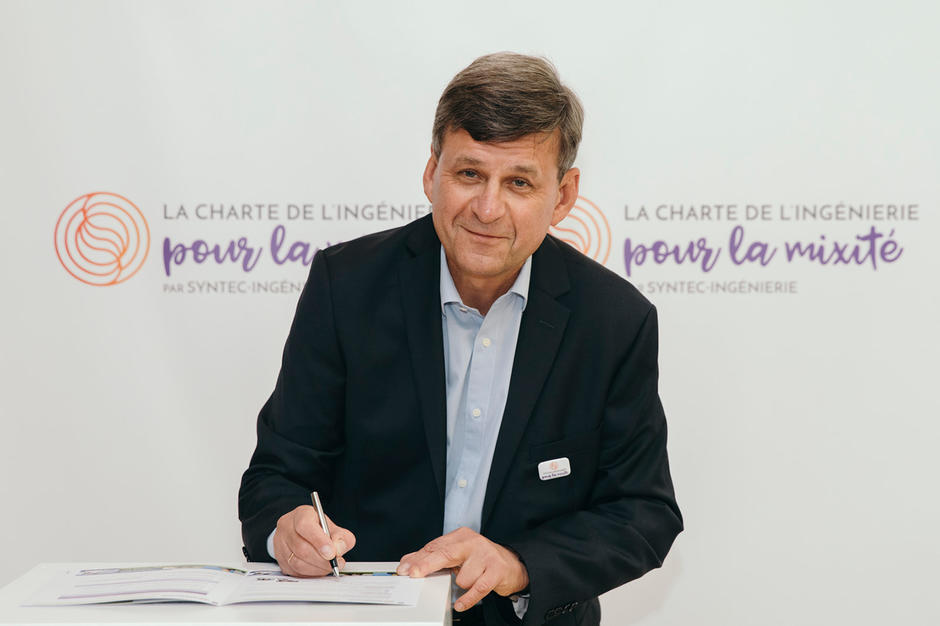 Philippe Bloch, Seureca's General Director signing the Syntec-Ingénierie's Charter for gender diversity ©Voyez-Vous/Vinciane Lebrun
Today, only 31% of engineers are women, although they are on the frontline when it comes to environmental, technological, and social changes. The Diversity Charter aims to involve the engineering sector in 3 missions: attracting women to the engineering field, retaining female talent, and enabling women to evolve in their careers.
For quite some time, Seureca has advocated these commitments through a variety of actions. For instance, our female employees are systematically interviewed after their maternity leave to discuss the next step in their career, our male employees are informed of their right to paternity leave, part-time work schedules are arranged for those employees who wish it, and to improve the balance between professional and personal life, a Charter on Disconnection has been adopted.

To take things further, Seureca has now pledged to work alongside Syntec-Ingénierie and other signatory companies to foster gender diversity in the workplace and to develop the role of women in engineering. Tangible actions will be conducted under the four engagements in the Diversity Charter:
Take action to change the image of engineering among young people, especially girls and young women.
Ensure equal treatment for women and men throughout their careers.
Promote a balance in professional and personal life for all employees.
Encourage access to managerial positions for women by fostering upward mobility.
Through the various initiatives to be undertaken, Seureca  will partake in the collective effort towards feminizing the profession. Via a steady follow-up, Syntec-Ingénierie shall gauge the progress made in reaching the objectives.